Laelia autumnalis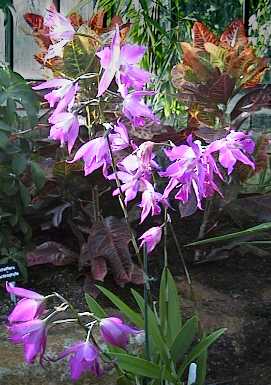 Laelia autumnalis, an orchid, in the Conservatory at Cambridge University Botanic Garden.
Most of the houses in the glasshouse range at Cambridge University Botanic Garden house rather static collections, with each house being devoted to a different sort of climate, but the Conservatory is used to show off whatever plants are currently at their best - often the same houseplants as are available in garden centres.
In December 1996, the show comprises mainly Cyclamen and Cineraria. Not all are common houseplants though, and there is a nice display of Lachenalia (Winter flowering bulbs), and of course the Laelia pictured here.
A number of the orchids make relatively easy houseplants. Although I haven't grown Laelia myself, it doesn't look too different to Cymbidium, which doesn't seem to present any problems. Of all the orchids seen in garden centres, Cymbidium must be the easiest. It is rather uninspiring when not in flower and just displaying its strap-like leaves, but like many orchids the flowers last for an unbelieveable length of time on the plants, possibly several months.

---
[ Clarke Brunt's Home Page | Cambridge University Botanic Garden | Plants of Interest, December 1996 ]
---
Author: Clarke Brunt (clarke.brunt@viridis.net) Last modified: 14th December 1996